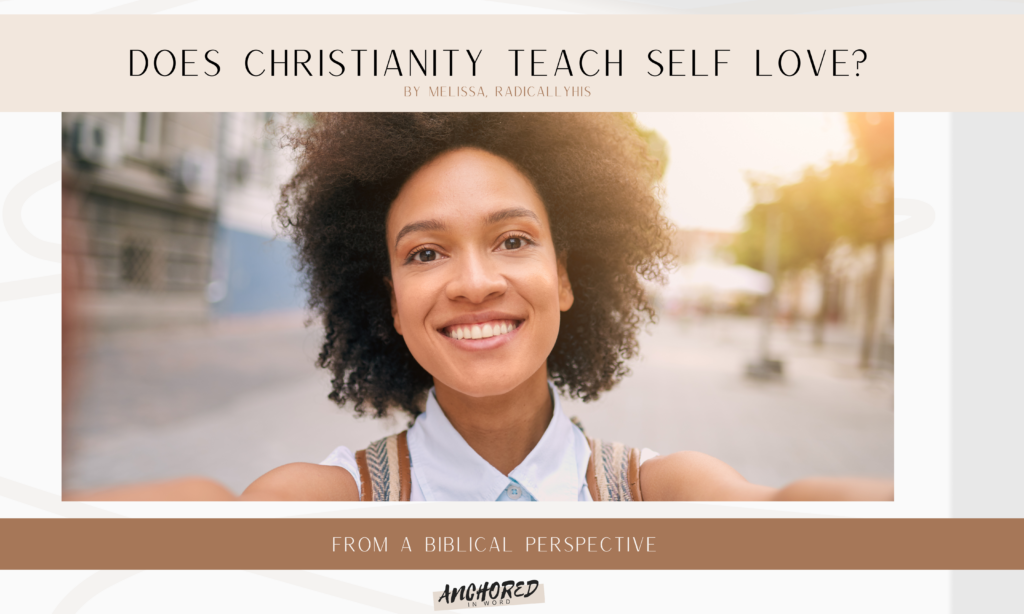 We live in an age where we are constantly being pointed to ourselves, to look inward for answers, to capture our own image on camera whenever possible, and to do continual self discovery. The problem with this is that self focus is a never ending process and at the end of it, all we have is ourself. While there is a wide range of opinions on the topic of self love, this article will explore what Scripture says.
Scriptural Love is God Centered
The Bible gives us a very good idea of what worldly self love looks like, 2 Timothy 3:1-4 says "But understand this, that in the last days there will come times of difficulty. For people will be lovers of self, lovers of money, proud, arrogant, abusive, disobedient to their parents, ungrateful, unholy, heartless, unappeasable, slanderous, without self-control, brutal, not loving good, treacherous, reckless, swollen with conceit, lovers of pleasure rather than lovers of God"
The greek word for the phrase "lovers of self" in this verse means an excessive love of oneself, a love that is self-centered. Worldly self love points us back to ourself over and over again.
The problem with this is that there is no amount of self improvement or self introspection that we can do on our own which will ever leave us fully satisfied, there will always be a longing because we are unable to perfect ourselves.
What does Scripture Teach About Real Love?
Scripture on the other hand teaches us that real love cannot be comprehended apart from God; therefore, we rightly view ourselves by understanding our identity through the one who is perfecting us – Jesus Christ. This was one of the hardest things for me to do when I finally gave myself fully over to Christ as an adult. I was damaged goods, I had broken the heart of God with my sinful life, and I was wallowing in much shame and regret.
Yet the Scriptures taught me that God had washed me clean of my past and freed me from the due punishment for my sin (Rom 6:23, 1 John 1:9, Eph 1:7). When we are saved part of our transformation process is to see ourselves through the eyes of Christ. Scripture teaches us that when we are saved, we are a new creation (2 Cor 5:17). 
We should absolutely love our identity in Christ because through Christ our relationship with God has been reconciled (Rom 5:10), through Christ we are adopted into God's family (Eph 1:5), and through Christ we are sealed by the Holy Spirit (2 Cor 1:22). Best of all nothing can separate us from His love (Rom 8:38-39), not our old self, not our new self, not any internal or external force can separate us from Him.
Self Centered or God Centered?
Having a God centered self worth is characterized by finding our identity in Christ. Honestly, when I spend too much time focusing on my short comings, I get depressed because my focus is only centered on me. But when I focus on God and His Word, when I focus on who He says I am, what He is doing in my life, how He is transforming me little by little, how He has covered all of my imperfections with His perfection, then I am encouraged.
We can accept who are because we were created by God. Understanding God's perspective of our worth is valuable. It is not the kind of self love that is built on pride, conceit, and self centeredness – it is built on God as our creator and on the truth of His Word. We should have a good grasp on how God sees us.
The Word of God that says we were fearfully and wonderfully made (Psalm 139). We can accept ourself because God did not make a mistake when He created us and at the same time we can understand that our flesh has been so marred by sin that we desperately need both salvation and sanctification. A right self understanding is security and significance that is found in Christ alone!
This kind of self worth is so powerful because the world can never change it and we can never change it. It is true only because we belong to Jesus. When we get focused on the one who made us and on who we are in Him, our focus moves from self centered to God centered.
"Scriptural Love Calls Us to Die to Ourself while Worldly Self Love Calls Us to Live for Ourself"
We are constantly hit with messages that tell us to do what makes us feel good yet what makes us feel good isn't always what is good for us. For example, I feel good when I eat doughnuts and ice cream, but it is certainly not good for me to over indulge in these things just because they make me "feel good".
Worldly self loves gives us permission to do whatever we feel like doing. Worldly self love calls us to regard our own needs, thought, and wants higher than others. This type of self love is really self elevation. It permits us with unlimited boundaries because we make all of our own rules. It says I know what is best for me and I am my own highest power.
Flesh vs Spirit
Scripture, however, teaches us that our flesh and our Spirit are always in opposition to one another (Gal 5:17); therefore, we cannot be both self focused and Spirit focused. Scripture calls us to die to ourself. Jesus says in Luke 9:23 "If anyone would come after me, let him deny himself and take up his cross daily and follow me."
The verse demands that we reject a life that is based on our own desires because following Jesus is about seeking His will not our own. I believe that the best way to love ourselves and to love others is to love the Lord above everything, to follow Jesus, to be obedient to His Word, and to seek His will for our life.
God is the one who knows us best and who knows what is best for us (Psalm 139, Is 55:9). Therefore, we must give ourselves fully over to Him, dying to our own wants and desires and living for His will daily. To some this may sound like a deprived way to live but I promise it is the way to our greatest joy and our deepest peace.
Dying to Self
Scripture makes a clear distinction between our old self and our new self, in Ephesians 4:22-24 Paul urges us, "…to put off your old self, which belongs to your former manner of life and is corrupt through deceitful desires, and to be renewed in the spirit of your minds, and to put on the new self, created after the likeness of God in true righteousness and holiness." The world is calling us to embrace everything about ourselves while the Word of God is calling us to lasting transformation through Jesus Christ.
The world is calling us to a self-help movement while the Word of God calls us to change that is moved through Sanctification (2 Cor 7:1). Scripture points us away from our old self to our new self in Christ (Eph 4:22-24) while worldly self love says our old self is just fine. Scripture teaches us to have confidence in Christ (Heb 10:35), while the world teaches us to have confidence in ourselves.
Scripture teaches us to have an outward focus (Phil 2:3-4, 1 Cor 10:24), while the world teaches us to have an inward focus. Scripture points us to serving others (Gal 5:13) while the world tells us to serve ourselves. Scripture calls us to self control and self denial (Gal 5:23, Lk 9:23) while the world calls us to self indulgence.
Scripture is about transformation from the inside out (Rom 12:2, Ps 51:10) while the world tries to gloss over internal transformation with an outward makeover. Scripture says Christ in me is what is good (Rom 7:18, Jn 15:1-5) while the world says me in me is what makes me good. Scriptural says that God is what makes us whole (Col 2:10-15) while the world says that we can make ourselves whole. Scripture says Christ must increase while I decrease (Jn 3:30) however the world says I must increase while everything else decreases.
Christ Elevated
"The only way we can rightly love ourselves or love anyone else is by loving God above everything and following His will for our life."
At the end of the day Christ is the only one that can be elevated in our lives. We can accept who we are because God created us and because Christ gives us a new life. The only way we can rightly love ourselves or love anyone else is by loving God above everything and following His will for our life, because we have no idea how to rightly live or rightly love apart from Him.